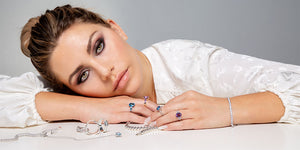 ABOUT US
Every piece of jewelry tells a story.
Our mission is to create quality fine jewelry that is accessible and affordable. As jewelry trends come and go, we create pieces that are classic and timeless, with elements of what's currently trending.
All gold styles are proudly manufactured in Canada, and our sterling silver is produced internationally. Our genuine stones are 100% ethically sourced.
We are inspired by how jewelry expresses and reflects the woman wearing it; their uniqueness and individuality shines through.